Applied for patent of production recipe of the meringue burger on the 7th of last month
Decision to protect me-too products
Disclosure after 20 years of protection by the Patent Act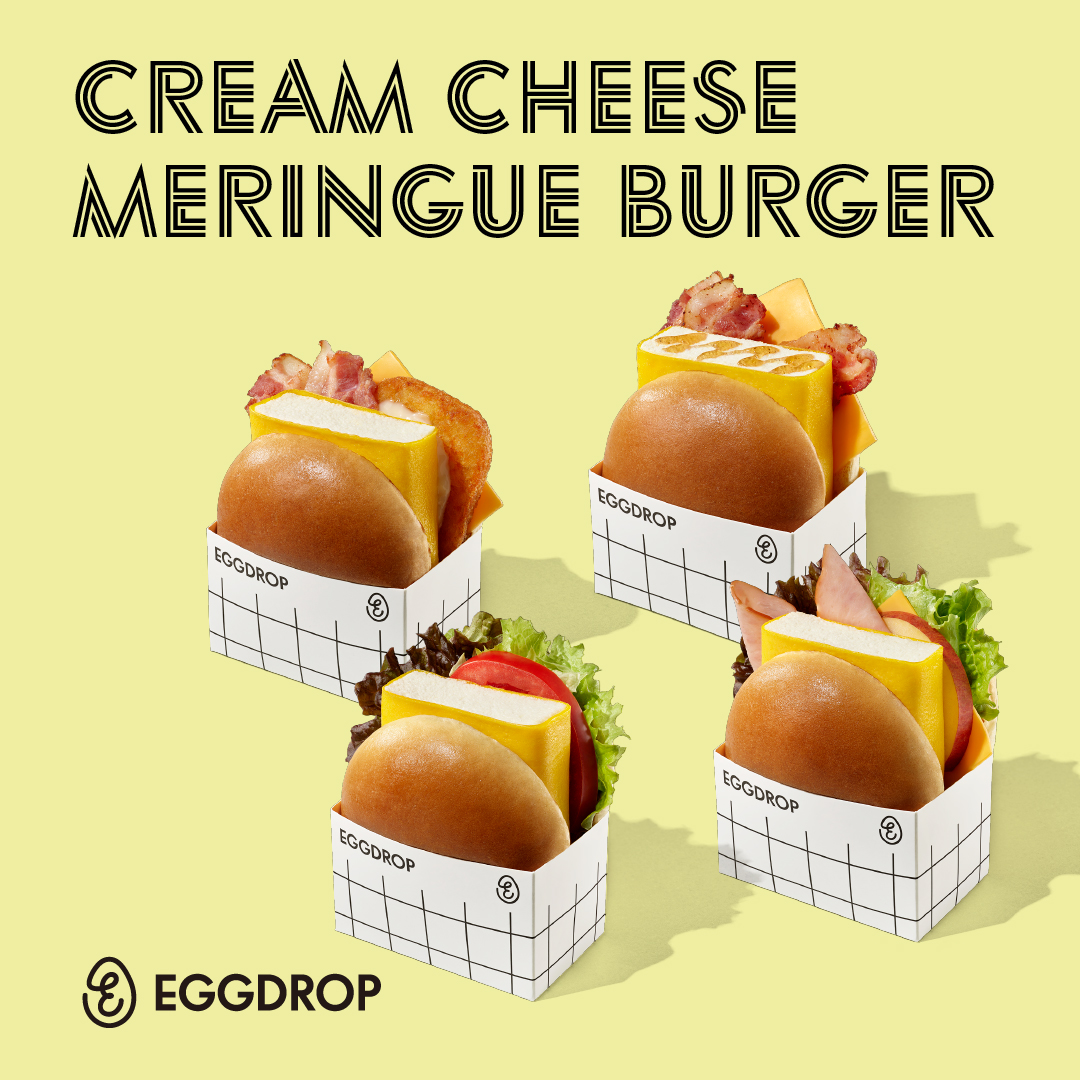 The premium sandwich brand EGGDROP has revealed on the 3rd that it has completed an application for patent for the meringue burger, a new product that was recently released.
EGGDROP, facing the release of the new products "4 types of meringue burgers," completed the patent application of the meringue burger and the recipe for producing meringue burger on April 7th. The core element of the patent application is the meringue patty made by mixing meringue made with egg whites and soft cream cheese. This was a decision to protect the brand and its franchise stores from me-too brands and similar menus by receiving official authorization of EGGDROP's unique recipe.
In the food product industry, where there is sensitivity to trends, if a certain product becomes popular and goes viral among consumers, "me-too products" that imitate the cooking method and shape of such become common. As the current law does not recognize cooking method of food products as work, even if such is imitated, being protected by the Copyright Act is almost impossible.
In order to prevent such, the relevant brand and its recipe can be officially authorized by a registration of patent. While registration of patent automatically discloses the recipe and disables confidentiality, the method to realize the taste and character unique to a certain product is protected for 20 years in compliance with the Patent Act.
This patent registration of EGGDROP is prospected to become a reference case to resolve the recipe and menu plagiarizing issue of the food product industry that has risen recently. Additionally, it is expected to prevent circumstances in which business damages incur for storeowners due to similar menus of me-too brands that open near the franchise stores.
A person affiliated to EGGDROP said, "the recipe plagiarizing problem of the food product industry is a problem that makes many brands and independent business owners suffer even today," and added, "we hope that this recipe registration of EGGDROP's new menu becomes a case that can preserve the profits of both the brand and storeowner. EGGDROP will continue to give its best efforts in protect its storeowners and coexist with the brand."
The subject of patent registration, the meringue burger, is a new product released by EGGDROP on April 28th. After mixing rich cream cheese with foamy meringue, a meringue patty wrapped with flavorful egg spread is used. The flavorful, sweet taste is it defining characteristic, with cream cheese added to soft, fluffy meringue.
A total of 4 kinds have been released, including the "ham cheese meringue burger" with refreshing vegetables and apple slices, the "maple bacon meringue burger" with harmony of sweet and savory, the "potato meringue burger" with rich flavors of bacon, hash brown, cheese, and white cream sauce, and the "veggie garden meringue burger" with vegetables, tomatoes, and refreshing lemon dressing. All 4 kinds are made with EGGDROP's unique brioche bun, full of buttery flavor.