- Focus on developing menu that suits taste of the MZ generation that prefers "sweet and savory," "rich flavors"
- Following the #1 popular menus "garlic bacon cheese"…"bacon double cheese," "American ham cheese"
- Popular with the flavors and appearance of a brunch plate in one sandwich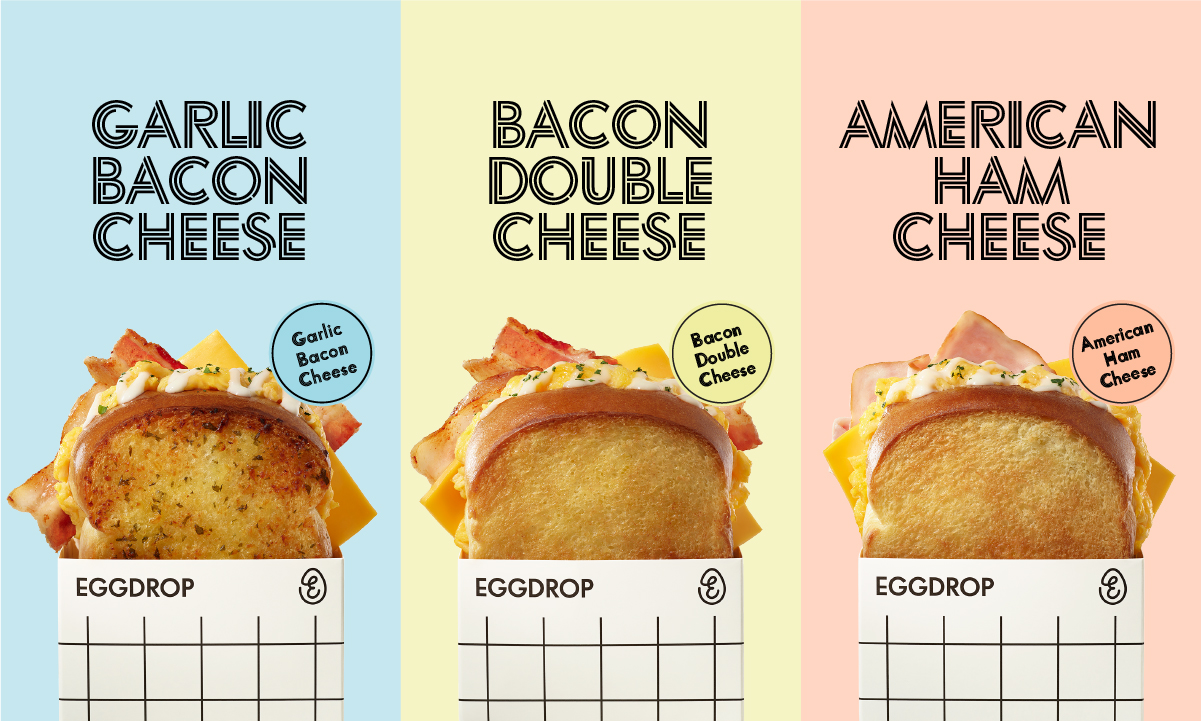 The premium sandwich brand EGGDROP continues to be popular among the MZ generation with menu that suits its taste.
In reality, looking at the sales data from April last year to March this year, the most sold menu is "garlic bacon cheese," making up 22% of total sales profit. The garlic bread full of garlic and butter flavors, soft scrambled eggs, and savory bacon and cheese together have captured consumers.
In second place, "bacon double cheese" is only 3% behind "garlic bacon cheese." This menu provides rich flavors with the savory taste of bacon and cheese and sweetness added with EGGDROP's signature sriracha and ranch sauce. In third is "American ham cheese." Just like the first and second place, it provides a harmonious flavor with ham, cheese, soft bread, and sweet sauce.
Such preferences of consumers have been incorporated in the newly released "meringue burger." The meringue patty used in the "meringue burger" has been self-developed by EGGDROP by incorporating the consumers' preference of creamy cheese and rich flavors. Cream cheese has been added to soft, fluffy meringue to present richer flavors with sweetness and softness. The 4 kinds of new "meringue burgers," "ham cheese," "maple bacon," "potato," "veggie garden," are composed of ingredients that capture the various preferences of consumers.
A person affiliated to EGGDROP said, "EGGDROP does its best to provide the best service and experience to consumers by using grade 1 non-antibiotic eggs and the best ingredients," and added, "recently there has been false rumors spreading around about the brand, and we will continue to actively communicate to resolve such misunderstandings and continue to provide enjoyment to our consumers with new and fresh menus."