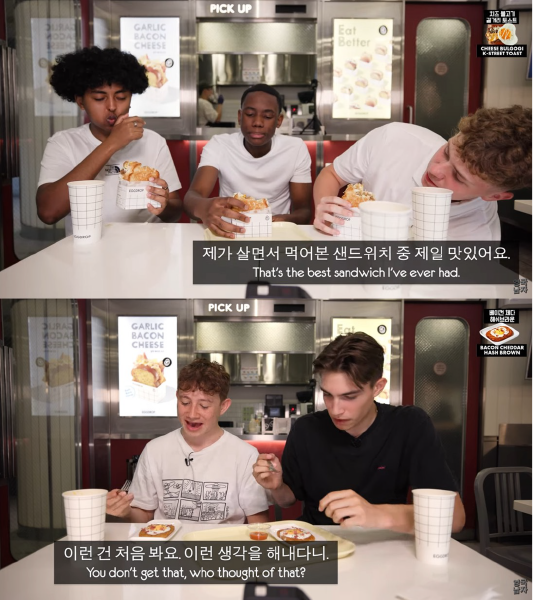 Eggdrop, a premium sandwich brand, announced that a collaboration video with the channel 'British Man' with 5.27 million subscribers was released on the 24th.
YouTube Korean Englishman is a channel where British Josh and Olly introduce Korean food, culture, and history to the world.
The video released on the 24th contains the travel stories of British high school students who went on a school trip to Korea and the K-Toast mukbang at Egg Drop. The students who tasted three kinds of Egg Drop's street toast and Josh's recommended menu, Garlic Bacon Cheese, praised Korean toast and continued their mukbang.
In addition, two types of hash browns, which were newly released as a side menu, were also provided. According to Eggdrop, 'Corn Cheese Hash Brown' was evaluated as "the best sweet salty sweet salty!" and sniped the students' taste buds, and the 'Bacon Cheddar Hash Brown' with the sauce sprinkled in the shape of an egg attracted students' attention from its shape.
An Eggdrop official said, "In 2019, British men Josh and Ollie voluntarily introduced Eggdrop in the British twin travel special of Father Chris and Major Charles, and the response was hot. As soon as I heard the news, I wanted to introduce eggdrop to them and give them a taste, so I decided to collaborate with a British man."
On the other hand, as soon as the video was released, it was ranked on the real-time trending video, and as of the 25th, a day after its release, it achieved 2.2 million views.